Learning how to start a dropshipping business an attractive goal to pursue in 2021 if you want a side income or if you are interested in becoming self-employed.
You can build your own personal brand by selling products from suppliers without dealing with order fulfillment while letting your supplier handle customer service and distribution for you.
This allows for minimal upfront investment as well the flexibility to work on your business while it grows, making it one of the easiest businesses you can start today.
Read our free, informative, and brief guide below so you can also start a dropshipping business of your own!
---
Quick Tips to Start a Dropshipping Business
Being a new eCommerce entrepreneur, you need to put your baby steps cautiously. Although you may not need a lot of funds in your bank account, you will have to put in tremendous efforts to get everything in line from a long-term perspective.
Here are a few ways that will help you sort the good ideas and the mandatory ones from the outset.
1. Select a Profitable Niche
Selecting a niche is the foremost step to start a dropshipping business. A successful eCommerce business depends upon the segment you choose. The business idea you choose must be remarkably focused and something you are genuinely interested in.
A popular myth has been floating in the market for years that you do not have to be cautious while choosing your dropshipping niche, this couldn't be farther away from the truth.
Well, here are the best ideas that can help you settle on your desired niche faster.
Low-Shipping Costs
Choose something that is quite affordable to ship. Although your supplier will manage the shipping process, the high costs will make your consumers move back from their purchase orders or alter their purchasing decisions.
Low shipping costs will allow you to provide free shipping to your product buyers bearing the cost as a regular expense to generate additional sales.
Like any other business, you should aim at a profit margin of at least 20%, despite shipping costs, vendor fees, or tax. And a profitable niche will surely help you to achieve it.
Popular on Search Engines
The niche you choose should be an active search on various search engines, which is why it's important to pick one that has a lot of potential for competition. You'll want to make sure your website ranks high in the "organic" results and not just the paid ads so that people can find you quickly.
With that said, if no one is looking for what you are planning to offer, then you are dead in the ocean right before you start.
Google Trends is a great way to see how much people are searching for your product, and what they're saying about it. You can also find out the popularity of keywords associated with it.
This is an excellent tool for keeping on top of the competition, so you know where you stand when customers are looking online.
Drives Buyers
A product must be interesting enough to drive customers that purchase it. This will keep the business afloat and make sure you are setting yourself up for success in a competitive industry.
It is important to invest time and effort into researching new products, improving old ones, etc., because if your product isn't attracting any attention, then there won't be any money coming in from sales either.
This can be done throug channels like social media and search. Naturally, successful entrepreneurs are always looking at new opportunities for growth and exploring creative ideas with the goal of finding what works best for them.
Not Available Locally
Choose a product or service that is not available locally. This gives people the opportunity to buy things that are not available locally and also provides an experience that they cannot get by going into any other store in town. This will attract more potential customers for you.
💡 Pro tip – If you're using Nimble, you can easily find your ideal product with our Product Research Tool. You can browse through a directory of daily updated product ideas with videos, targeting strategies, supplier links and more!
2. Study Your Competition
Many potential drop shippers commonly miss this step. They search for a product that has little to no competition. However, in reality, this raises a red flag regarding the less demand or zero market for such items.
After deciding your niche product, research who your rivals are, what variety of products they sell, and their respective marketing strategies. You can also hunt on social media for your niche competitors and obtain a proper elaboration regarding their promotional activities. By doing this, you can get a clear idea of your next marketing step
3. Find the Best Suppliers
This is of the utmost importance when you start a dropshipping business. Collaborating with the incorrect supplier may destroy your business. Hence, you should keep your eyes and ears open while making your choice.
With Nimble, we recommend using AliExpress as your primary supplier, but you could also consider a dropshipping agent if you have the time to research a quality one.
Having honest and accurate communication with your dropshipping supplier is highly necessary for speedy future responses and the capacity to understand each other well.
It's important to know that you can trust your supplier. You have to be confident that you are dealing with a reliable supplier, so make sure that they are properly vetted.
It is also helpful to find out what their return and refund policies are before scaling your dropshipping business.
💡 Pro tip – Have you been looking for a winning product, but have no idea where to start? You're in luck! Nimble's directory has hundreds of thousands of products and allows you to search with keywords or browse through the categories. It also offers daily updated product recommendations so that finding the perfect product is as easy as it gets!
4. Create Your Dropshipping Business Store
To start your dropshipping business, you need an eCommerce website that showcases an online store because:
● Branding, designing, and laying out are totally under your authority.
● The ability to create a company independent of a third-party network.
● You will have no direct competition on the same website from other vendors.
To create a dropshipping store quickly, you can take help from online tools such as Shopify and Nimble.
First, create a Shopify account, set up your domain name, and proceed with the setup of the payment and checkout settings. When that's done, make sure to bring on your terms and conditions, privacy policies, and return policies.
A common pitfall at this stage is picking a generic theme, a random logo, and adding hundreds of products to your store. Don't do that.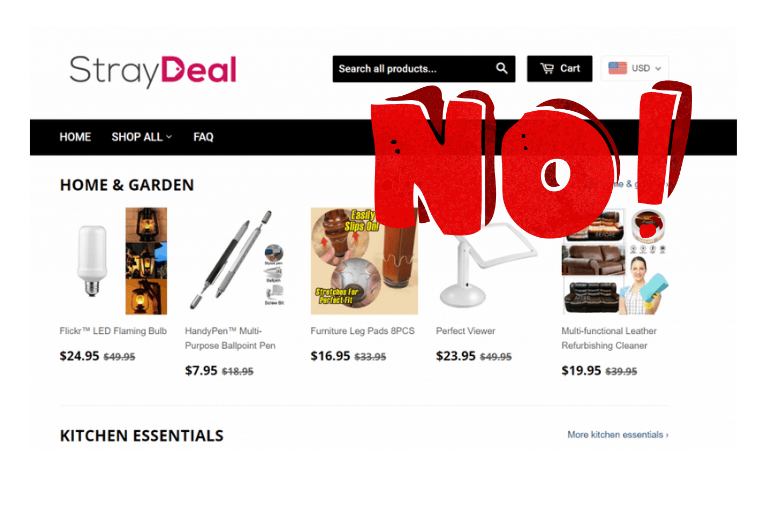 You want your store to look and feel professional, which is why you should focus on a handful of winning products instead of a lot of random ones. Not only will this make your customers more likely to buy what they came for, but it'll also save you time and money in the long run from not having to keep track of so many different items.
---
---
5. Creating the Perfect Product Page
Unfortunately, the default Shopify product pages are quite limited and usually convert less than optimized product pages.
We know that product pages have the potential to make or break any marketing campaign. Which is why we built Nimble's landing page builder, which offers an easy-to-use interface and templates for creating top converting pages in minutes!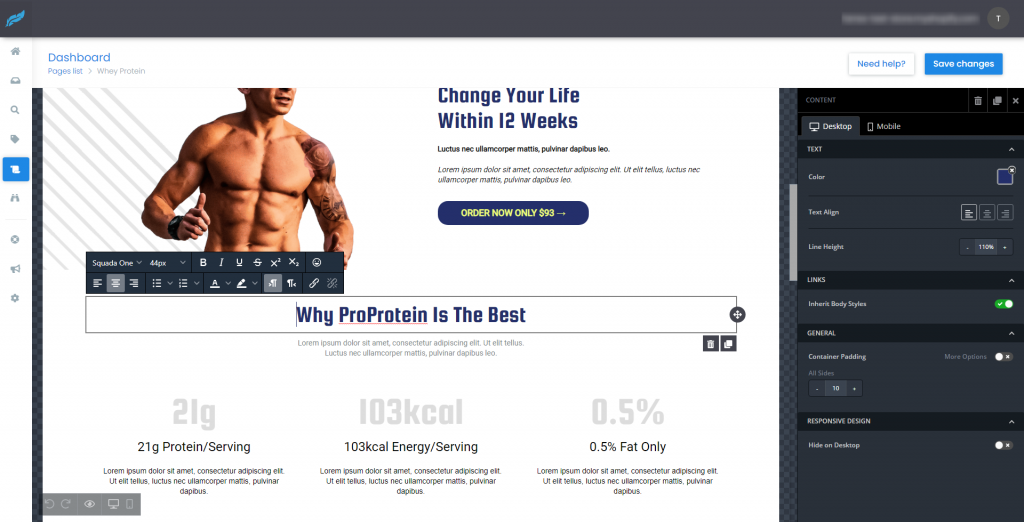 Customize your page with text formatting, colors, fonts, images, social media links, and more – all without ever touching a line of code! And if you don't feel creative enough, there are over 20 premade templates including mobile optimized templates so your visitors will always have the best experience possible.
💡 Pro tip – Do not re-invent the wheel! With Nimble's product page creator, you can quickly create high converting and professional-looking pages within minutes without any coding experience.
6. Promote your Products
By now, you must have selected your product and established your store. Now you have to create a proper customer acquisition strategy. This means you have to gain the attention of the buyers by promoting your products.
Some popular methods that you can make use of are creating a social media ad campaign, trying influencer marketing, or paid search traffic. 
Many entrepreneurs consider Facebook marketing the most effective one as Facebook enables them to reach their highly targeted audience easily. This allows you to compete directly with the largest brands and retailers of the same niche.
In addition, email marketing and search engine optimization are other two strong ways to adopt while starting a dropshipping business. Collect customer emails and set up newsletters sequences or updates providing special offers and deals. This type of advertising is the most affordable one to leverage your current consumer base.
Whether you're just getting started or scaling your dropshipping store, getting sales is the backbone of any business, but it can be hard to keep them coming. The most important thing you can do is invest in marketing campaigns and sales promotions that will draw people in.
💡 Pro tip – Automating repetitive tasks and product research will free up your time to focus on more important things like growing your business. With Nimble, you get order fulfillment, order tracking, and product research done with a few clicks – all without any manual work!
7. Analyze and Optimize
To expand your business, you need to monitor all available data and metrics. This involves traffic from Facebook Conversion Pixel Statistics and Google Analytics if those are your crucial consumer acquisition platforms.
You can easily scale up the things that work and cross out the which do not if you can scan through every conversion. Certainly, you need to know where the customers came from and how they navigated through your web store that ultimately led them to purchase. This implies that you need to continually explore new possibilities and look for great existing campaigns that enable you to know when to maximize or change the spending rate.
Takeaway
Now you have read the quick guide to start your dropshipping business, you should have a general idea on how to get started.
With Nimble at hand, you can have the best software to fine-tune your strategies and automate as you wish.
There is never a set-and-forget advertising campaign. Hence, while starting a dropshipping business, always try various strategies to see what can help you and take your eCommerce business to a new horizon.