As the owner of a dropshipping store, you often have to make hard decisions relating to the operations of your business. Whilst there are a lot of store owners who are more than happy to spend a lot of time managing their store themselves, there are equally a large number of people turning to agents in order to make their business more efficient, and more profitable.
One of the most common questions we get is about when a Shopify store should consider using an agent to help manage daily transactions and the general running of a dropshipping store.
Using the right supplier is one of the most important parts when scaling a dropshipping business, in this article we hope to inform you regarding that decision.
How efficient is your store currently?
A recurring theme in all our blogs is how time equates to money. If you are spending a lot of time managing a single business, you are reducing the amount of profit you are making on it, as you could be spending that time on other businesses or ventures.
If you find that you have a large-scale order volume, then this is the first indicator that you should consider utilizing software or an agent to make your time more efficient.
With AliExpress, for example, each order has to be managed individually, meaning that you would be spending a lot of time processing each order and getting them shipped to your customers. However, when utilizing dropshipping automation software such as Nimble, this is all combined so that you can manage large orders with a single click of a button that processes them all and ships them simultaneously!
How much control do you want to have?
It sounds contradictory, but you could end up having more control over your business if you start using an agent. Some options out there have built-in data reporting tools, whilst also keeping all of your administration details – tracking, order information, etc. – readily available to you in a much more accessible way.
With AliExpress, it's hard to exactly know what goes on behind the scenes, particularly when it comes to processing delays and slow shipping. As we have also highlighted in previous blogs, customer service is pivotal to the success of the business, and you not having control over any delays, nor information about this, can negatively harm your dropshipping store.
On top of this, you'll be able to clearly control your inventory, allowing you to consider the areas of your shop that perform the best so that you can try and tap into that niche within the market to earn more revenue through your business.
Improving the customer experience
We briefly touched on this in the last point about control of your dropshipping store, but we think this is so important we want to go into more depth. The entire world of business works around relationships between people – whether it be your customer with you or you with your suppliers.
Switching to an agent can lead to your life as a dropshipping store owner much easier. However, it can also make your relationship with your customers better. As we've previously touched upon, customers like to know what is going on with their order, so having easily accessible tracking numbers is essential when you are providing this. Along with fulfilling a large volume of orders with a single click of a button, you will also get all the tracking numbers for these shipments automatically, meaning there is no room for human error – you become a reliable option for your customers.
Sounds good, but what's the catch?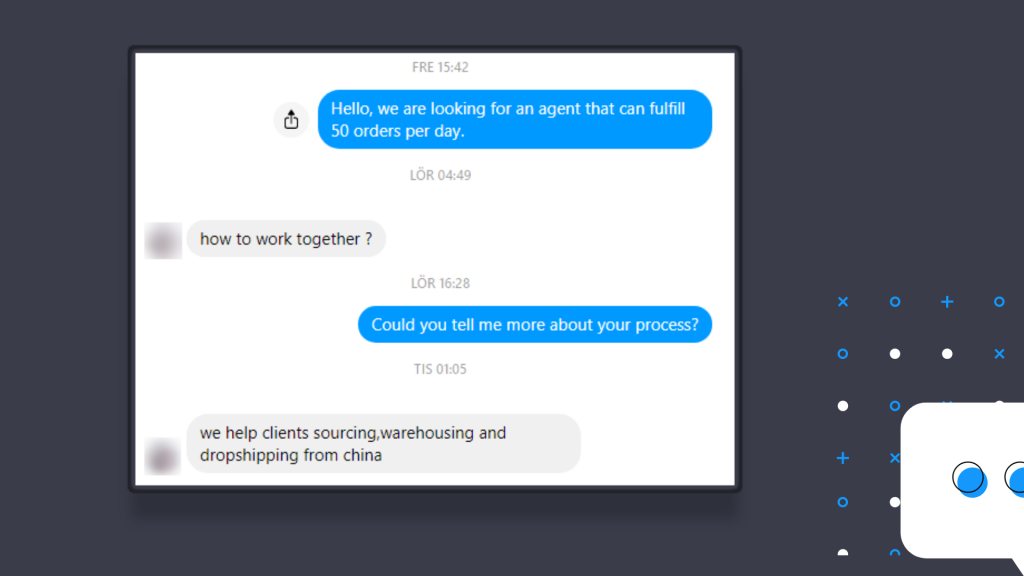 Finding an efficient and reliable agent is no simple task for different reasons. Anyone can claim to be an agent ready to fulfill your orders in the quickest time possible, and there is no shortage of such claims.
Most agents are based in China and utilize Google Translate for communication, which can make it difficult to get your point across. Without effective communication, it can be really difficult to establish a meaningful relationship. Not to mention that it's almost impossible to verify if the person you are speaking to is representing a legitimate business.
Filtering out the good agents from the bad agents can be time-consuming, not to mention that the wrong choice could be extremely costly. Platforms like AliExpress exist in the first place to simplify supplier research.
Agent alternatives
Achieving a 6 or 7-figure dropshipping business is possible while using AliExpress suppliers, and sometimes you don't have to look any further. However, it wouldn't hurt to utilize available tools that can save you tens of hours of your time per week.
Nimble is a tool that can fully automate your dropshipping store and makes it easier for you to grow your dropshipping business. Here are a few features that make Nimble a superior alternative to having an agent:

Find the hottest winning products that are available right now.
Have the ability to filter out the best and most reliable suppliers for any product.
Fulfill hundreds of orders with a single click.
Send automatic tracking numbers to your customers.
and much more!
Conclusion
It's clear that there are multiple reasons why you should consider using an agent for your dropshipping store. For a lot of our customers, the reason simply boils down to growth and potential. Whilst owners are spending a lot of time managing orders for their stores, they are unable to spend that time marketing or developing new products and ideas, which will be other revenue streams for a particular store.
Choosing to automate your business could just be the best thing that you do for your dropshipping business, because of the amount of control it gives you and the freedom you will have instead of manually doing tedious tasks.
If you ever are stuck wondering what you could do to improve your business, always remember – time is money – so look to see what you can do to cut down the amount of time that you are spending and make your business more efficient!